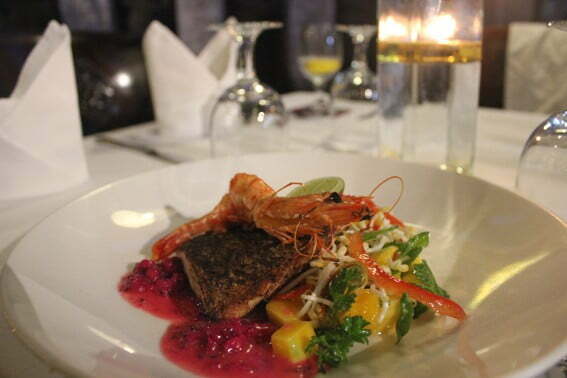 At Muntigs Bar & Restaurant at Batu Karang Lembongan Resort & Day Spa, we really value our guest feedback. This is why we like to keep things interesting by offering a daily fresh feature to complement our
regular menu. Variety is the spice of life, right? And with some new faces on our Kitchen Team, we are excited with the new items that our guests have had the opportunity to sample. From such offerings as
Seared Honey Soy Marlin lightly smoked and presented on hickory wood, to Balinese Yellow Fin Tuna on roasted garlic risotto with citrus compote and dragon fruit, to Balinese Barramundi with sautéed organic
bok choi and pumpkin ginger puree with coconut sambal, to a Surf 'N Turf favorite of Eye Fillet from Australia's Hunter Valley paired with lemongrass prawns, to a Botanical Spiced Barramundi Fillet combined with Nam Jim Prawn on mango salad. Not only do these mouth-watering dishes raise the bar for our guest options, but they are filled with colour and stunning presentation. All while keeping our guests' health as the utmost importance. We welcome you to come savour the flavours of our new dishes, we trust your tastebuds will feel spoiled!