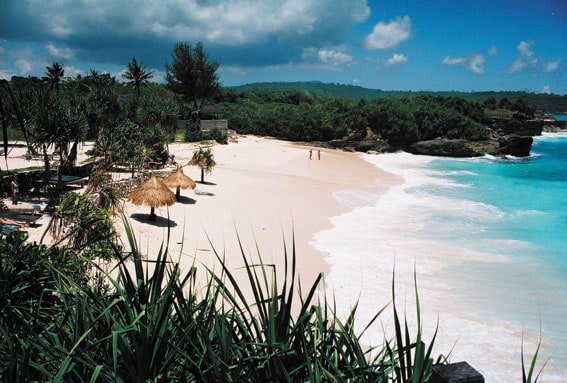 Nusa Lembongan is known to be an island for the lovers, the families, the adventurers, and a group of friends wanting to escape & relax. And where it is missing nightclubs & disco balls & late night loud pumping music, it most certainly makes up for in beautiful sights that make you go "ohhhhhhh" and "ahhhhhhhh." While Muntigs Bar & Restaurant at Batu Karang Lembongan Resort & Day Spa is currently closed for our Annual Maintenance, we welcome you to explore some of our favourite island spots to keep yourselves busy…
1. Dream Beach
One of the more popular beautiful sights that is a "must see" on Nusa Lembongan is this small beach nestled amongst the cliffs. Graced with crystal clear turquoise water, and often powerful sea swell, this beach is photo worthy from the top of the cliffs or down on the white sandy stretch. A perfect place to relax and catch some sun, be careful to take a dip only while the waves are calm as mother nature does her beautiful work with the crashing waves.
2. Devil's Tear
A romantics favourite photo location, people can sit here for hours atop of the cliffs watching the waves come crashing in. It is truly awe-inspiring to watch the forces of nature do their work with the strong swells breaking & grinding out the limestone cliffs. This is both violent and beautiful at the same time.
3. The Mount Agung View / Panorama Point
Sea & volcano, this majestic view we have from Muntigs Bar & Restaurant along Jungut Batu Village & Beach is one of the primary forces that draws visitors to Nusa Lembongan. Also viewed along the seafront boardwalk or even Coconuts Beach a close walk away, you can also hike or take your bike up to Panorama Point to sit and watch the waves breaking. Warning: you may wonder where the hours went getting lost in time.
4. The Seaweed Farming Overlooking Nusa Ceningan
Nusa Lembongan's old economy was based on the traditional seaweed farming. Now with tourism, the seaweed farming has taken a back seat to primary family-supporting industry here, however it still exists on the shallow stretch of sea between Nusa Lembongan and Nusa Ceningan. Watch the old families hard at work in the water at the right time of day, there are plenty of small warungs (local restaurants) where you can sit back and catch the stunning view.
5. Mangroves
Located on the eastern side of the island, the mangroves offer a beautiful place to stand up paddle board through the trees, or hire a local to take you around floating away in a jukung outrigger boat. Peaceful & serene, you can listen to the birds or just appreciate nature from the boat with your travel companions.
Above all with whatever sights you choose to visit, just remember to escape, relax, & enjoy!